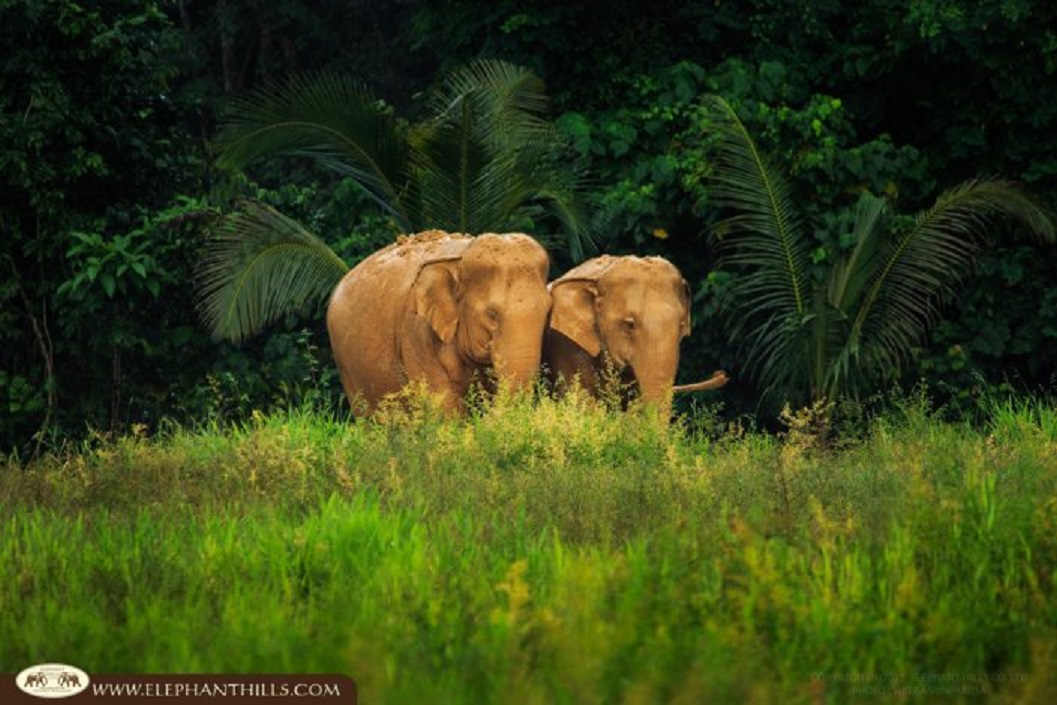 Elephant Hills Jungle Safari - 2 days
1 Nights
Elephant Hills are Thailand's first Luxury Tented Jungle Camps combining the camp idea of African national parks with the Thai tropical forest environment of the elephant park in and around the stunningly beautiful Khao Sok national park area.

Participate in their Jungle Safari and experience the highlights of Southern Thailand's natural beauty. The Elephant Camp, situated next to the Khao Sok National Park, will be the base from which you will experience the largest land animal in Asia, get up close and feed our Elephants, Explore the Sok River and join our informative and educational Jungle Walk with Lunch prepared in the jungle before your very own eyes, the perfect pick for any vacation!

Due to ethical reasons, they do not offer elephant riding at Elephant Hills. Instead, you will get to feed and interact with Asia's largest land animal during your unique, award-winning Elephant Experience at their elephant park.
Highlights
- Elephant Hills Elephant Experience: Feeding and interacting with Asia's largest land animal. A really touching experience in an almost untouched environment
- Canoe Safari down the Sok River. Sit back and enjoy the breathtaking beauty of Khao Sok
- Evening Activities: movie presentation, dance performances and cooking demonstration
- Jungle trekking by foot through Southern Thailand's unique rainforest environment.
Day 1 - The amazing Elephant Experience
Day 2 - A little jungle adventure
Additional Information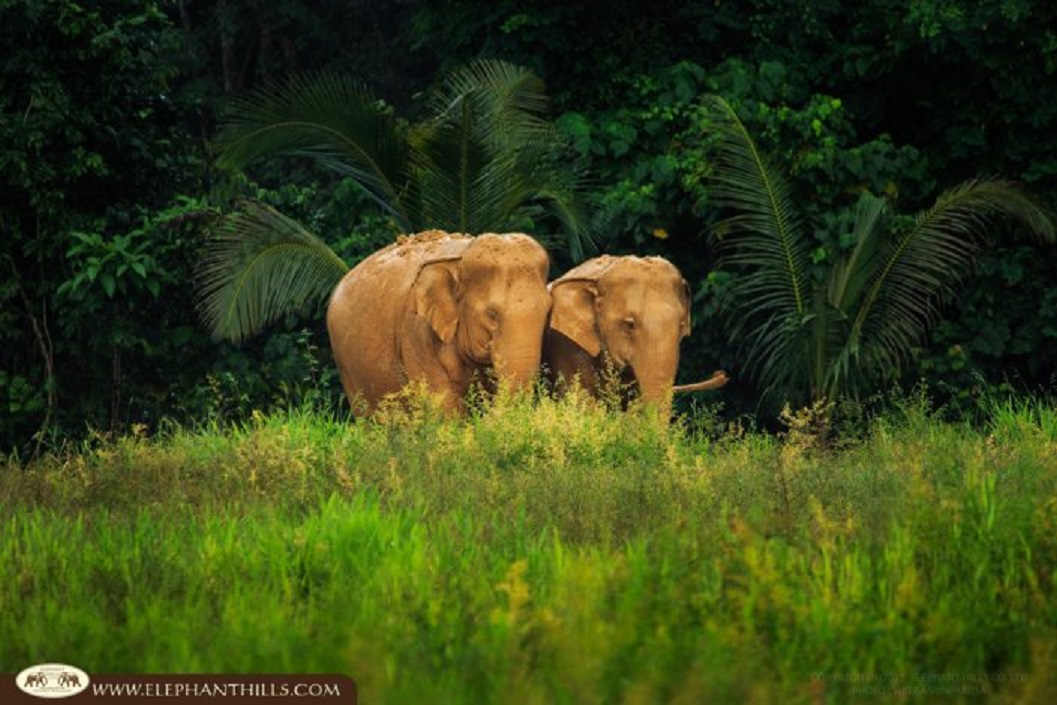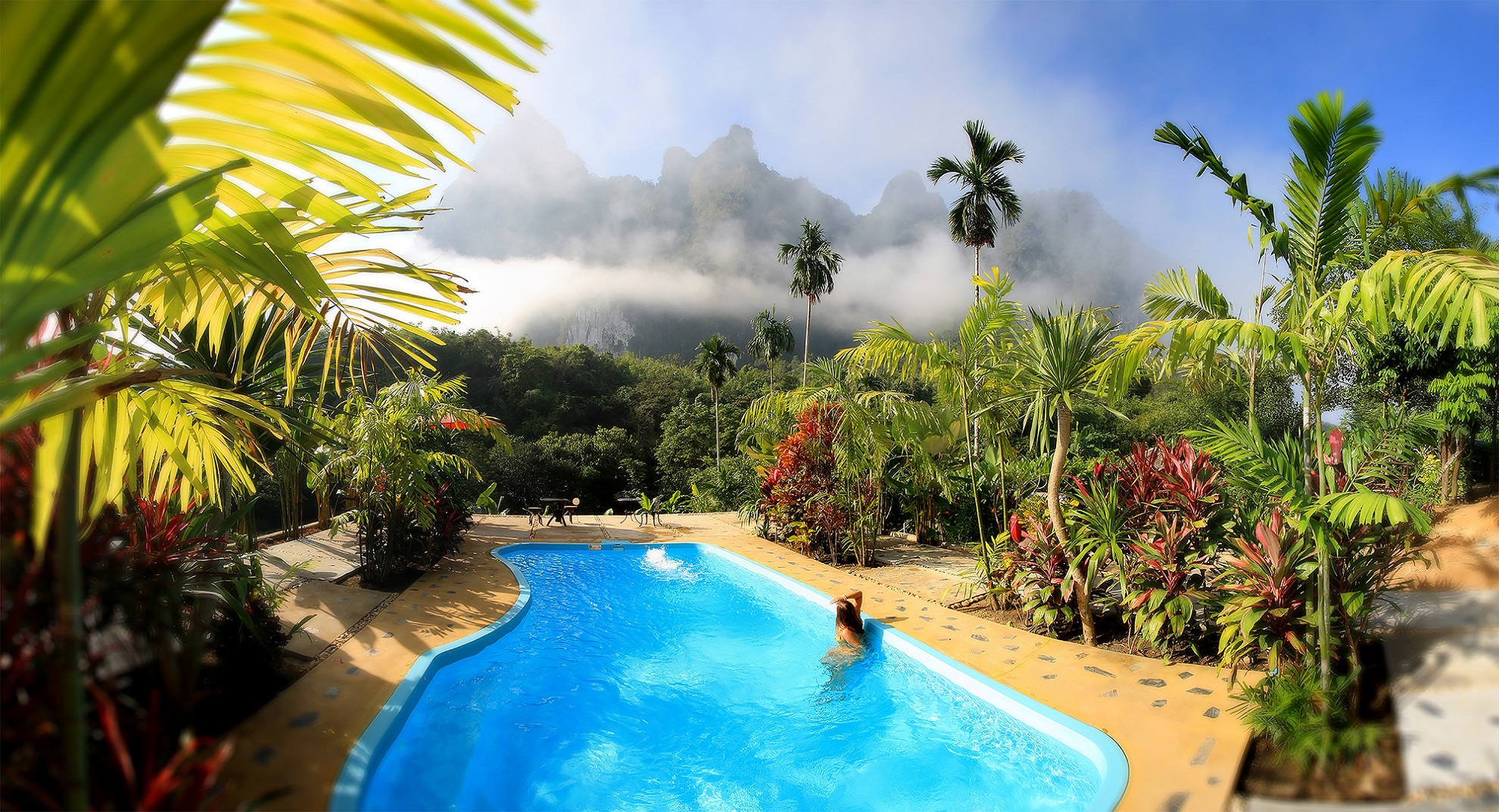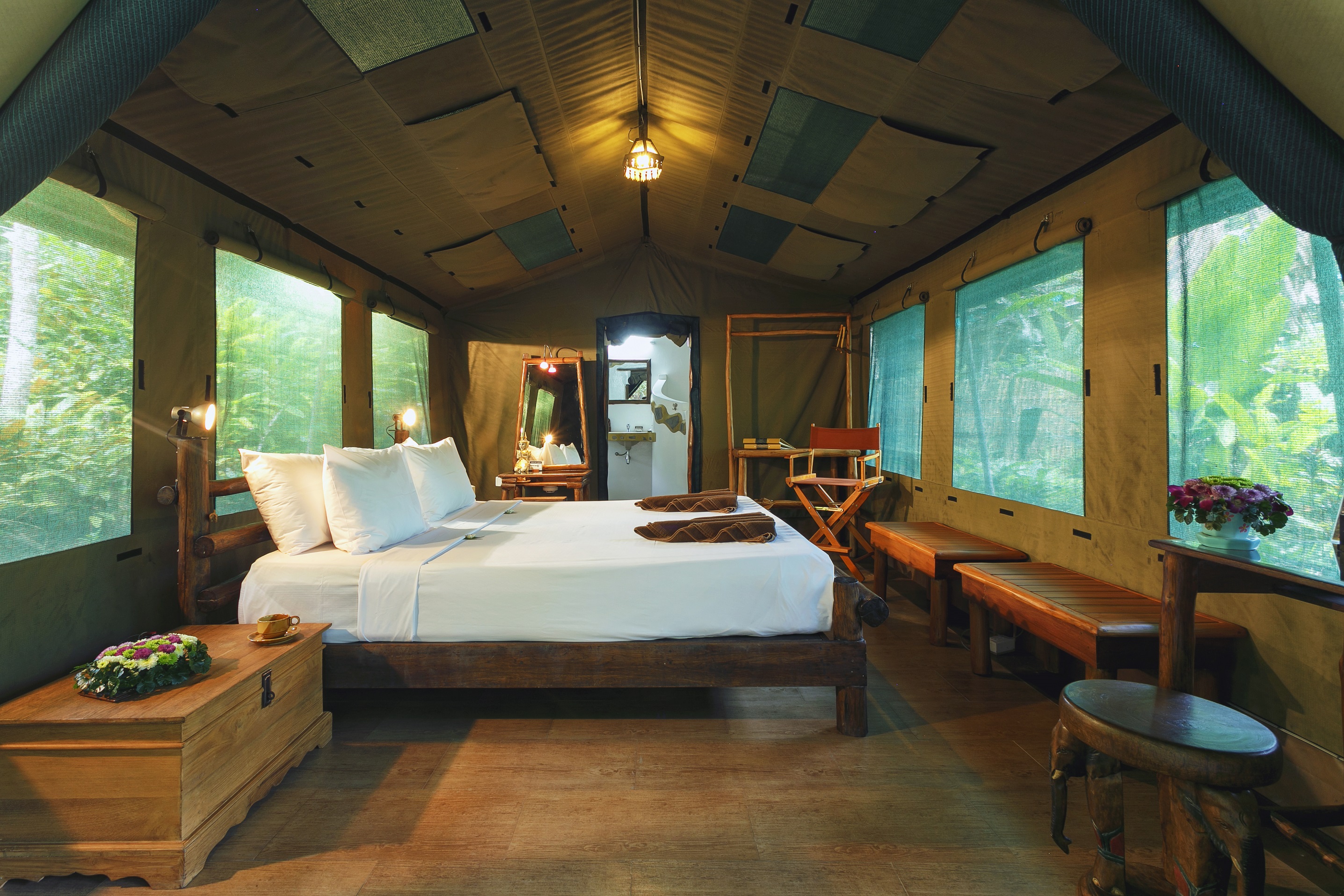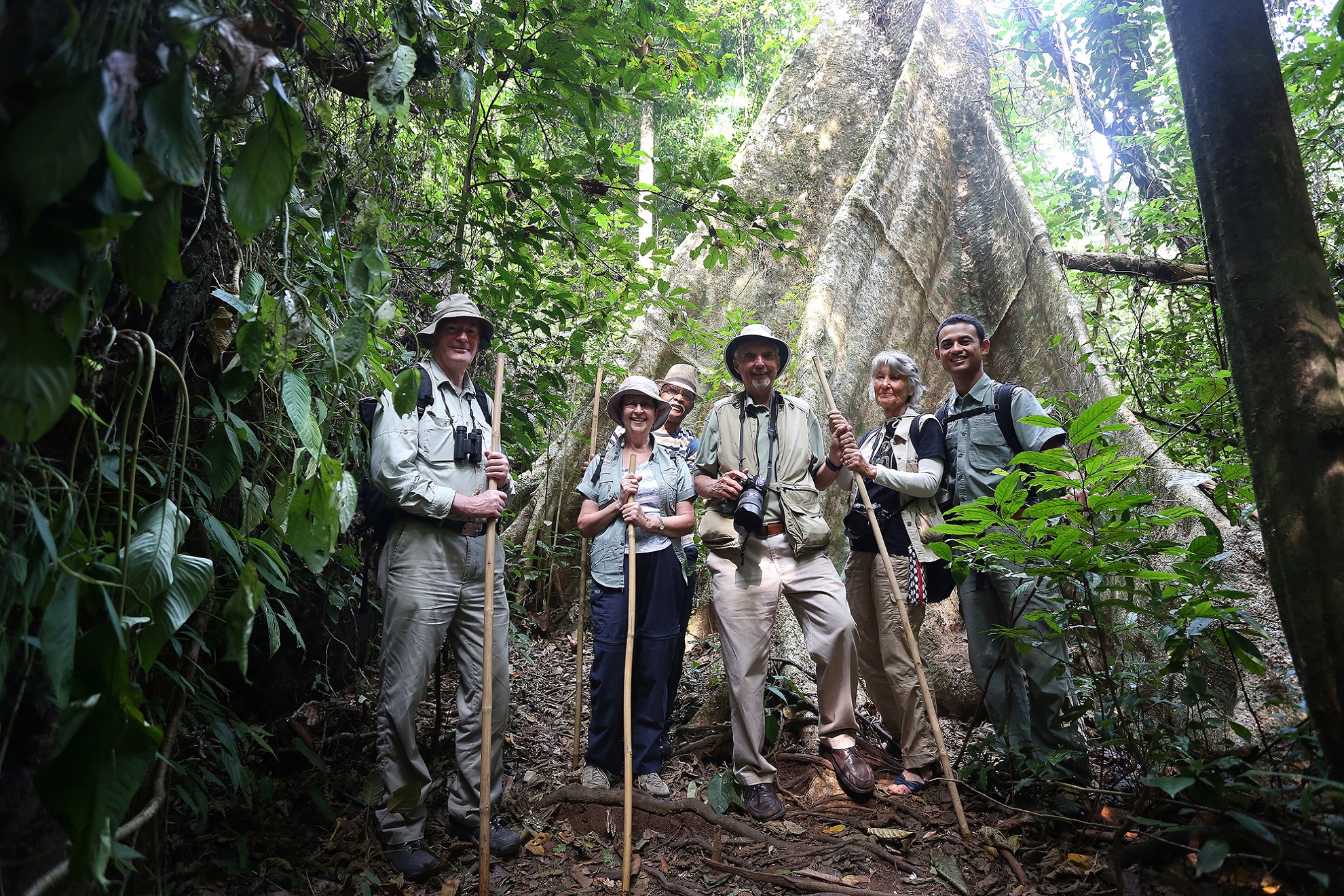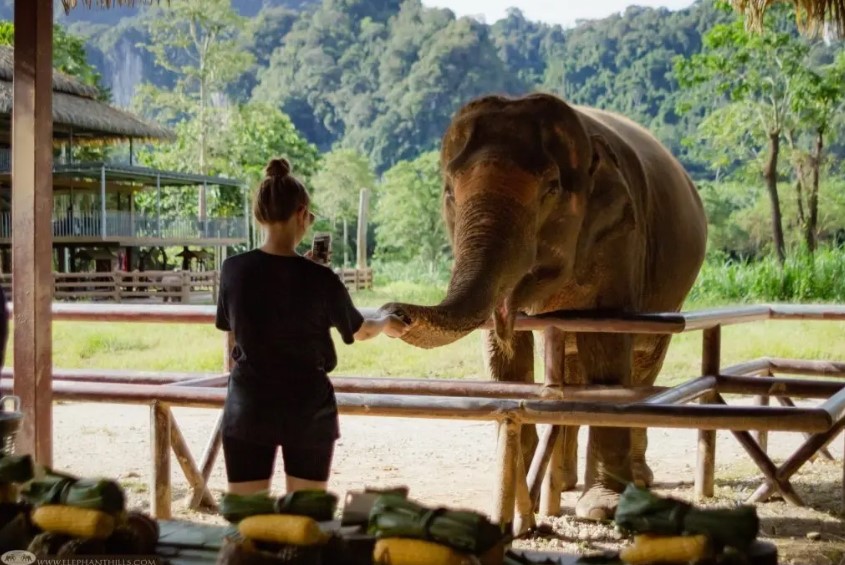 Welcome to Elephant Hills Camp

Pick-up from your hotel or the airport in Phuket, Khao Lak, Phang Nga, Krabi, Surat Thani or even from Koh Samui and transfer to Khao Sok. En-route, glimpses of tropical rural life here in southern Thailand can be caught. Upon arrival at Elephant Hills Camp, buffet lunch is served at 12:00pm, a variety of delicious Thai dishes cooked not too spicy awaits you.

Time travel on a canoe trip

After lunch you can relax during a jungle river canoe trip down the Sok River. The canoes are very stable and safe; life jackets are provided as well as a local river guide to paddle the canoe. Drift along the jungle river passing Limestone Mountains and cliffs covered with exotic tropical vegetation. Sometimes hornbill birds can be seen flying high overhead or reptiles basking in the sun on the riverbanks. From the canoe you can experience some of the last areas of primary rainforest, a world that has changed little in thousands of years.

The amazing Elephant Experience

Get out of the canoe and head over to the elephant park. Here you can see, touch and learn about the life of Thai elephants and about the Elephant Hills elephant conservation project. Your guide will also teach you about the mahout, the elephant caretaker. While participating in our amazing Elephant Experience you will get very close to and even get your hands on these magnificent animals, you will have the chance to interact with them and learn the secrets of their mahouts. You will prepare and feed them one of their daily meals, including their dietary supplements that help with their digestion and their overall well-being. This is a once-in-a-lifetime opportunity to really experience the Asian Elephant, this part of the world's largest land animal!

The laid-back evening you deserve

After all this activity close to nature it is time for a hot shower in the unique bathroom of your luxury safari tent. Relax and enjoy the panoramic views of the surrounding jungle-covered mountains – this is 100% real nature! A wide selection of cocktails, wines and spirits is available at the "Jungle explorer's club bar". Optional evening entertainment includes a movie presentation, a traditional Thai dance performance from local school children and a cooking demonstration, where you learn how to properly prepare Thai specialties. At 8:00pm it is time for dinner in this unique location beside the rainforest, the sounds and the atmosphere will make this a memorable meal. Spend the night in your luxury safari tent with a comfortable bed, reading lights, hot water and a western-style toilet. This is real luxury so close to the heart of the rainforest!
Meals Included: Full board
Elephant Hills Luxury Tented Camps
Elephant Hills are Thailand's first Luxury Tented Jungle Camps, combining the camp idea of African national parks with the Thai tropical forest environment. All Elephant Hills tour packages are fully inclusive of accommodation, full board, activities as per chosen itinerary, a fully trained, TAT-licensed English speaking Thai tour guide as well as joint transfers to and from Elephant Hills.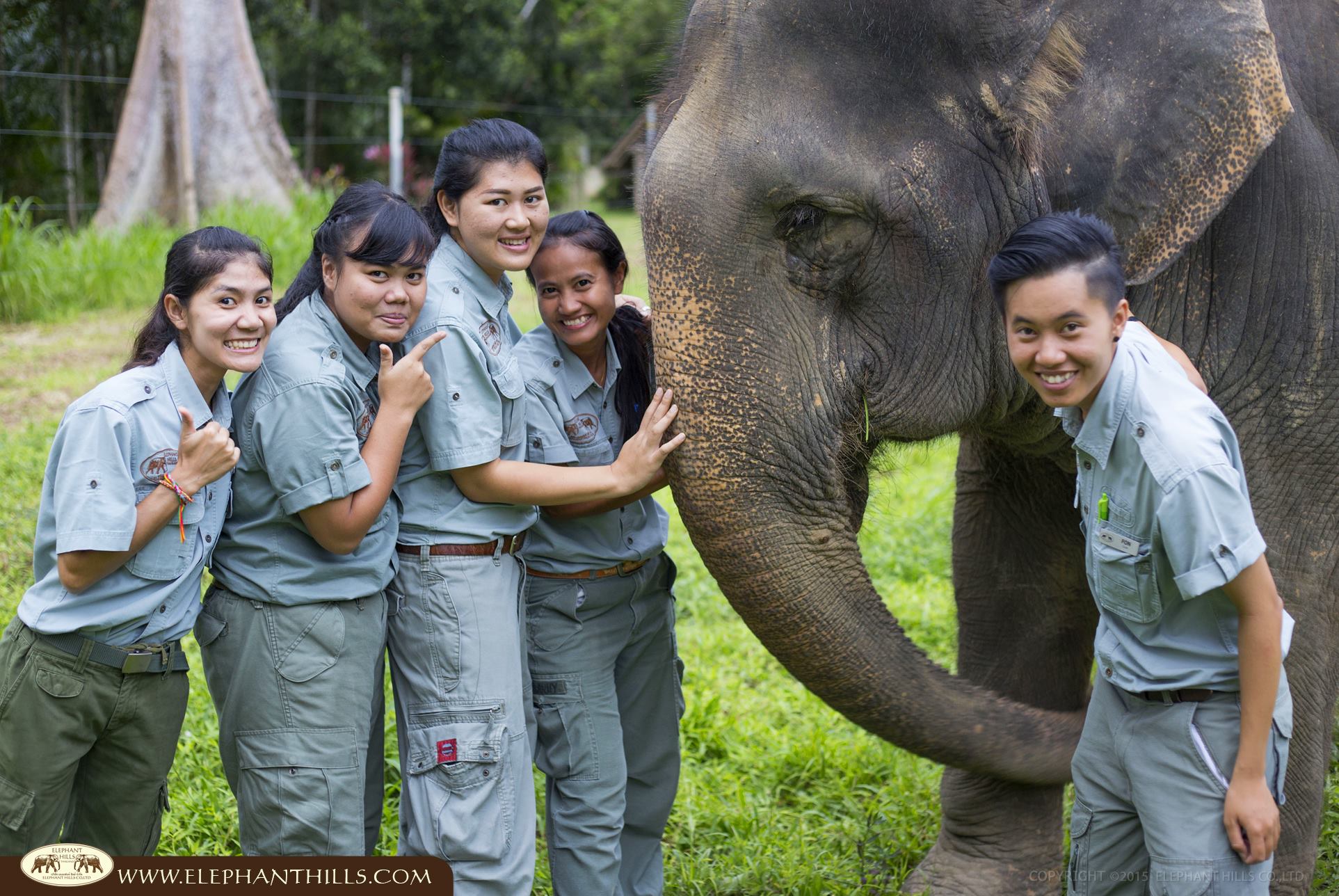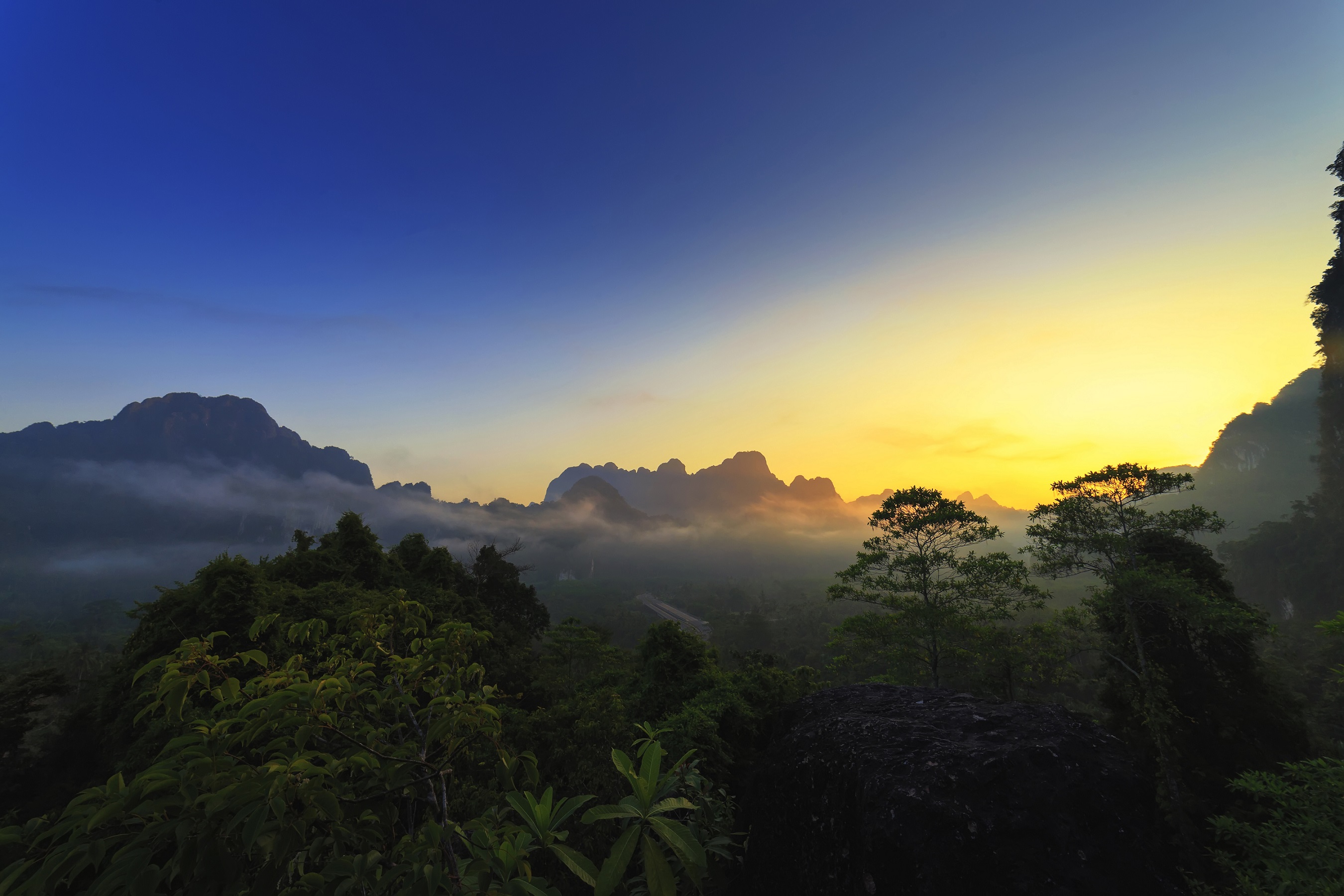 Good morning Khao Sok!

Wake up to the sounds of nature and birds calling from the bushes next to the tent. By the time the sun comes up and the mist over the rainforest-covered mountains to the south of Elephant Hills clears, gibbons' territorial morning calls echo down the valley. Tea and coffee making facilities are available in your tent for early risers; breakfast is at your leisure.

Modern era jungle explorers

Having experienced the Asian Elephant and been paddled by canoe along the river the day before it is now time to come face to face with the jungle by exploring it on foot. It is not an army survival exercise, there are no prizes for the fastest, snakes and spiders do not jump out at you – it is just an excellent opportunity to explore the ecology of one of the world's oldest rainforests, to see a great variety of exotic plants, tropical hardwood trees with huge roots, orchids, palms, ferns, bamboos, mosses… the variety is huge. Birds such as the hornbill live high up above, gibbons can often be heard calling to their mates, a macaque or a leaf monkey may be swinging through the branches, beautiful butterflies buzz around – every day is different, but it is always truly wonderful to discover the great variety of life-forms that co-exists here together. Walk slowly. Look, learn and listen. Then you too will start to discover some of the secrets of the rainforest.

Memories for a lifetime

After your morning activities, it will be time to return to the Elephant Camp where a delicious Thai buffet will be served for our guests to indulge in some Thai cuisine before they depart the camp. After a refreshing shower the onward transfer to your next hotel or the airport awaits you. All good things come to an end, they say, but luckily this unique experience will remain in your memory for the rest of your life!
Meals Included: Breakfast and lunch
All Elephant Hills Tours are fully inclusive of accommodation, meals, tour guide, activities as well as joint transfers with set pick up times which will be re-confirmed at time of booking. Transfers can be arranged from Phuket, Phuket Airport, Krabi, Khao Lak, Khanom, Surat Thani, Don Sak Pier or Koh Samui including the Ferry. Please check the website for transfer details and ensure that these are booked at the time of confirmation.

Please note that Elephant Hills does not offer extra nights - only one tour package can be booked per booking party.

All tour packages are fully inclusive of accommodation, full board, activities as per chosen itinerary, a fully trained, TAT-licensed English speaking Thai tour guide as well as joint transfers to and from Elephant Hills sanctuary. Not included are soft drinks, alcoholic beverages, personal expenses (ie. souvenirs) as well as tips and gratuities.

All activities as stated in the itinerary are subject to change in the order they are undertaken, depending on the local conditions on the day. Please note all activities are subject to change due to local circumstances.

All tours are suitable for most levels of fitness; the age range of guests is usually between four and seventy years old but occasionally, they do also have the pleasure to welcome even more senior adventurers to their luxury tented camps.

To reduce plastic waste, they offer several complimentary fill up stations for drinking water in all rainforest and jungle tour locations. Please do advise and encourage your guests to join Elephant Hills efforts by bringing a reusable bottle on their Elephant Hills adventure.

Important:
- All guests undertaking a tour and staying at Elephant Hills must have personal travel insurance for the duration of their stay at Elephant Hills
- Elephant Hills tours are not recommended for children under the age of 4
- Elephant Hills does not accept responsiblity for children under the age of 4, pregnant women, people of ill health or anyone who is suffering from any congenital disease, sickness or injury unknown to Elephant Hills prior to arrival

What to bring:
Please bring non-slip shoes like sturdy sandals or trainers, loose comfortable clothes, sun protection and a rain coat (disposable raincoats are available to buy at their camp), swim wear for use at the pool or in the river and personal toiletries. Please also remember to bring your passport for the check in process.

Luggage:
It is possible to bring your entire luggage to Elephant Hills for your tour if you are changing hotels when your tour program is finished; there is plenty of room in our tents. However, if you are returning to the same hotel, it may be advisable to just bring a small overnight bag for the duration of your stay and leave your main luggage at the hotel.
Private Transfers
Please note that the joint transfer out is available at 14:00 pm. Private Transfers are available between 08:00am and 15:00pm on request at a surcharge. Please understand that earlier or later transfers are not possible due to safety reasons. In case of arrival on a late flight or departure on an early flight, we recommend to book an extra night prior to or after your Elephant Hills experience close to the airport. Please note that in case you do book a private transfer, you may miss out on activities at Elephant Hills that day.
Phuket airport - guests must arrive on the TG201 (at 09.10am).
Krabi airport - guests must arrive by 09.00am.
All other flights may be subject to private transfer surcharges.
Please email for quotes for 3 adults / families.
Tents have 1 king or 2 twin beds. A rollaway bed can be added for a 3rd adult. For a family of 2 adults and 2 children - if one of the children is aged under 8 years then this child will share a king bed with their parents and a rollaway bed will be placed in the room for the extra child. For families with two children aged over 8 years then they will be accommodated in an extra tent (at child rates).