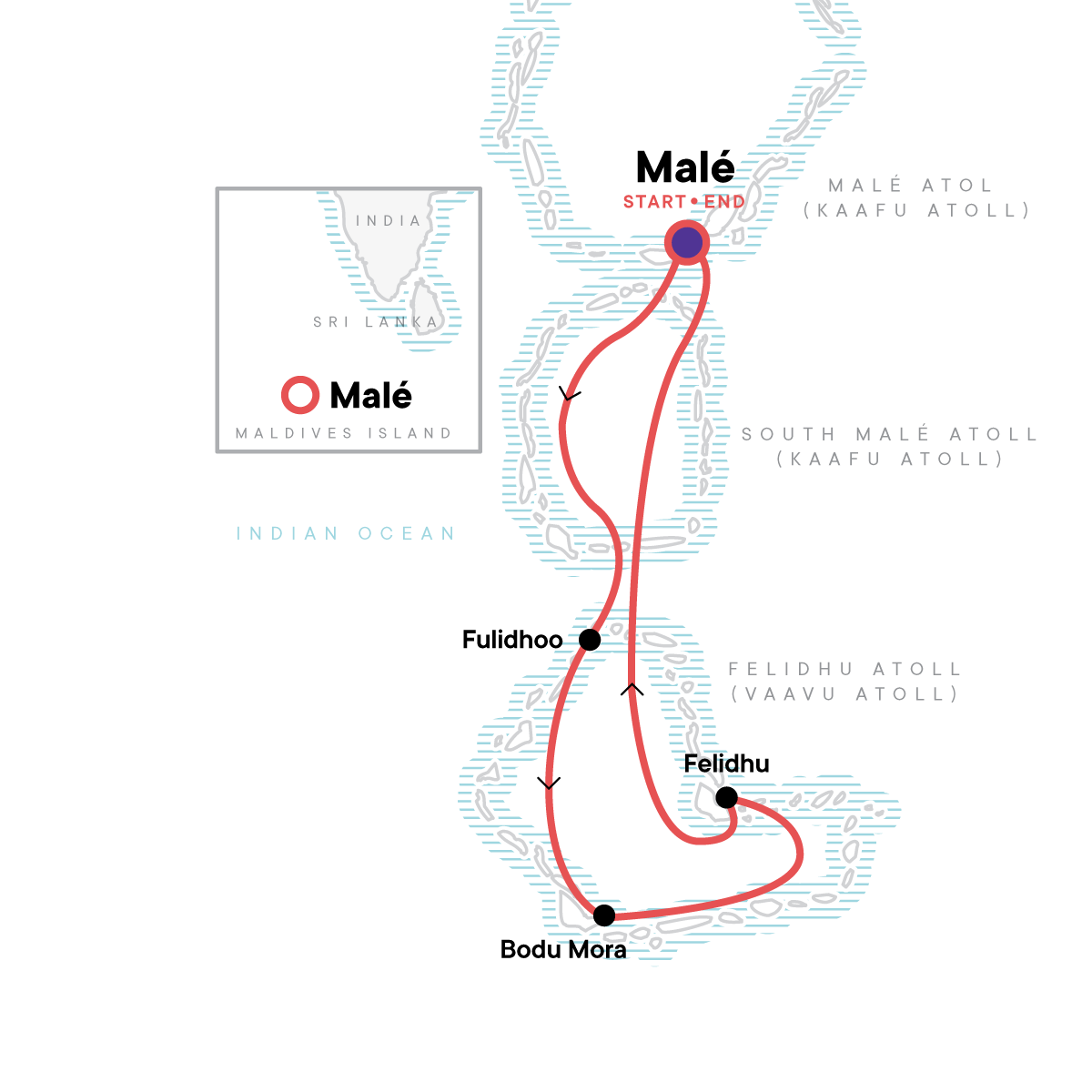 Maldives Dhoni Cruise - 7 days
7 Nights
Experience the turquoise lagoons and perfect beaches that make these Maldivian islands famous. Learn the local way and snorkel amongst the spectacular corals of the Indian Ocean. Cruise through some of the world's most beautiful islands, uncover isolated beaches, explore small fishing villages, swim and snorkel the vibrant coral reefs of the Indian Ocean, savour local cuisine
Highlights
Your G for Good Moment: Maldives Plastic Clean Up
Fulidhoo Island visit and Bodu Beru performance
Felidhu Island visit
Bodu Mora Island visit
Snorkelling
Beach time in the Maldives
Seven days aboard a traditional dhoni boat
What's Included:-

Your G for Good Moment: Maldives Plastic Clean Up
Arrival transfer
Fulidhoo Island visit and Bodu Beru performance
Felidhu Island visit
Bodu Mora Island visit
Snorkelling equipment
Beach time in the Maldives
Seven days aboard a traditional dhoni boat

Accommodation:-
Traditional dhoni boat (6 nts).

Meals:-
6 breakfasts, 6 lunches, 6 dinners
Allow USD35-45 for meals not included.

Staff & experts:-
Skipper/CEO (Chief Experience Officer), crew

Small group experience; Max 8, avg 8

Group Leader Details
All G Adventures group trips are accompanied by one of our Chief Experience Officers (CEO). The aim of the CEO is to take the hassle out of your travels and to help you have the best trip possible. They will provide information on the places you are travelling through, offer suggestions for things to do and see, recommend great local eating venues and introduce you to our local friends. While not being guides in the traditional sense you can expect them to have a broad general knowledge of the countries visited on the trip, including historical, cultural, religious and social aspects. We also use local guides where we think more specific knowledge will add to the enjoyment of the places we are visiting – we think it's the best of both worlds.

Solo Travellers
We believe single travellers should not have to pay more to travel so our group trips are designed for shared accommodation and do not involve a single supplement. Single travellers joining group trips are paired in twin or multi-share accommodation with someone of the same sex for the duration of the trip. Some of our Independent trips are designed differently and single travellers on these itineraries must pay the single trip price.


About Accommodation
A NOTE REGARDING SMALL SPACES ON BOATS: Please note that the rooming for these boats is done on a first-come, first-serve basis and no particular cabins nor berths can be guaranteed. Our skippers will pair up travel partners or if you are travelling single with someone of the same sex. Please be aware that as this is a traditional dhoni and not a cruise vessel, that the space on board is tight. You will be sharing a small room with one of your fellow passengers or travel partner and sharing all the facilities onboard. The sleeping quarters on boats are generally kept to a minimum size in order to maximize public space and performance. Some people are not comfortable with the type of close quarter arrangements typically found on boats, however if a real sailing experience on a real dhoni is what you are after, then this experience should more than make up for cramped quarters. Please note that the skipper will also be sharing the ship's quarters and amenities with you.